Phone service is out at Pescadero Middle/High School and the District Office. Our phone provider is sending a technician. If you have an urgent need to reach the school, please call Pescadero Elementary School at (650)879-0332 and the message will be relayed.
Applications for the South Coast Environmental Studies Program and Career Path are Officially OPEN! This is a great opportunity for High School students to engage with environmental science and our coasts. This is a PAID opportunity, which will provide monthly stipends for students to take part in: Water Quality Monitoring Native Habitat Restoration Outdoor Education and Media Production High School Students may apply using the following link:
https://docs.google.com/forms/d/e/1FAIpQLSfbesquy6-NCNwVxdeUkqUbCNDrTu5sp4i7vwpgG97LNrsnlg/viewform?usp=sf_link
A huge round of gratitude to the California Coastal Commission for approving this cycle of the Whale Tail Grants, and a congratulations to all other grantees across the coast included in this motion!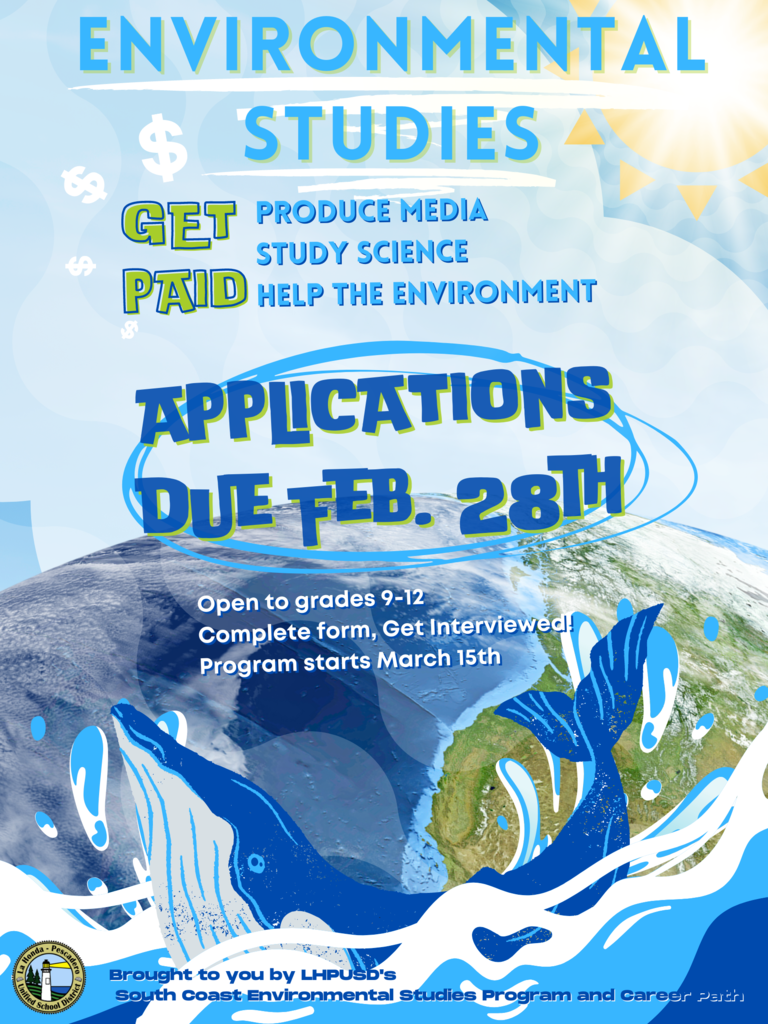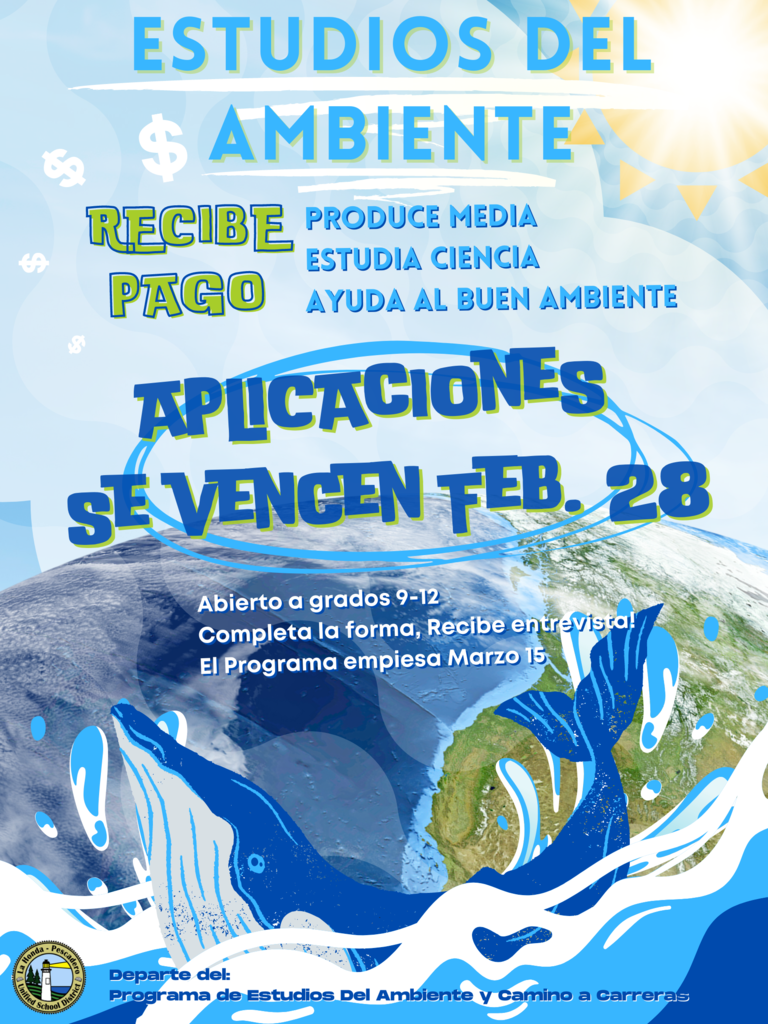 A special meeting of the Board of Trustees will be held on Monday, January 31st with open session starting at 7:00 pm via zoom.

Monday, January 17th is a school holiday in honor of the life of Martin Luther King, Jr. We will see you all on Tuesday, January 18th!

The January 19th Community Convening for the Rural School Design Program has been postponed until further notice due to active COVID cases in our communities.

LHPUSD will be closed from December 20-January 3rd. Students return January 4th. Have a wonderful and restful break.

Thank you all for your patience with transportation from Pescadero to La Honda this afternoon. With trees down on both Highway 84 and Pescadero Creek Road, we had to get creative with getting students home safely. I appreciate the flexibility of our families and our amazing transportation staff as we navigated the consequences of a stormy day. We will be checking the roads in the morning (12/14) and adjusting roads as necessary.


PHS Hoop Dreams This Week! Our small school invitational tournament is in its 15th year running and will be held on Thursday, Dec. 2nd- Saturday the 5th. We will be playing games from 8:30 AM- 9:30 PM all three days. The teams who are attending this year are Mendocino, Averroes, Pac Bay, Luis Valdez, Making Waves, Contra Costa Christian, Archbishop Hanna, and Kirby. Our girls will be playing at 8:30 on Thursday against Kirby and our boys will be playing at 10:00 against CCC.

LHPUSD will be closed November 24th -26th in observance of Thanksgiving Day. We will reopen Monday, November 29th.

Puente is hosting a vaccine information session for parents of children aged 5-11 on November 10th from 6:00-7:00pm. Dr. Garcia will present vaccine-related information and be available to answer questions from caregivers. The session will be presented in Spanish with English interpretation available.

Special meeting of the school board to be held Monday at 6:00pm with two items: 1. Consider approval for the purchase of a school bus 2. Consider approval of a bid to replace roof on the Pescadero Elementary Multi-Use room. Both items need consideration prior to our next regularly scheduled meeting on November 15th.

All San Mateo County evacuation orders for the South Coast were lifted today at 11:00 am. Our transportation routes to Pescadero schools through Dearborn, Loma Mar, Gazos and Cloverdale will now resume.

LHPUSD schools are open on Monday. All three sites are outside of the evacuation areas. For safety reasons, we will not be transporting students in the evacuation zones. Contacts are being made to those impacted in the following areas: Dearborn Cloverdale Butano Loma Mar Stay safe and dry out there.

Update on Storm and Power Despite the heavy rain and strong winds, as of 5:00pm on 10-24, power is on at all three schools. Stay dry and keep safe!

Rain is expected to start Saturday and continue through Tuesday. All schools have a safe indoor eating plan in case it is too wet to eat outdoors. Due to possible power outages, please make sure your child brings a warm jacket and bottled water to school.

Change in date of November School Board Meeting- Meeting has been changed from November 18th to November 15th!

The LHPUSD School Board will meet tonight at 6:30 pm on zoom. The link to attend the meeting is : Join Zoom Meeting
https://us06web.zoom.us/j/88418440131?pwd=RkRSZm9hYzd4OHA0Mlo0dy9pd3lUdz09
Meeting ID: 884 1844 0131 Passcode: 131759 One tap mobile +16699006833,,88418440131#,,,,*131759# US (San Jose) +13462487799,,88418440131#,,,,*131759# US (Houston)

Pool testing for COVID-19 begins this week for students and staff! We are so excited to bring this layer of safety to our schools through the support of California Department of Health and Concentric testing. Pescadero schools test on October 13th. La Honda Elementary on October 14th. Parental consent is required for any health testing. Any questions, please contact your school office.

Correction of start time for open session: Board Meeting on October 14th starts at 6:00 with a 30 minute closed session. Open session will begin at 6:30 pm. Please join us for a meeting of the Board of Trustees next Thursday, October 14th. Information related to this meeting and past meetings can be found at
https://www.lhpusd.com/page/board-agendas
.