October's Lunch Menu 🎃🕸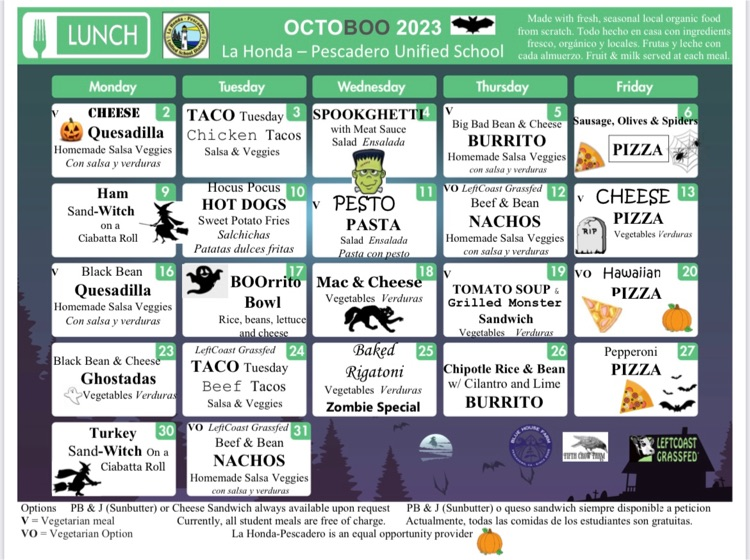 Reminder: Movie Night at Pescadero Elementary is tonight from 7:00-9:00 PM. The movie is Spiderman: Across the Spider-verse. Open to all LHPUSD.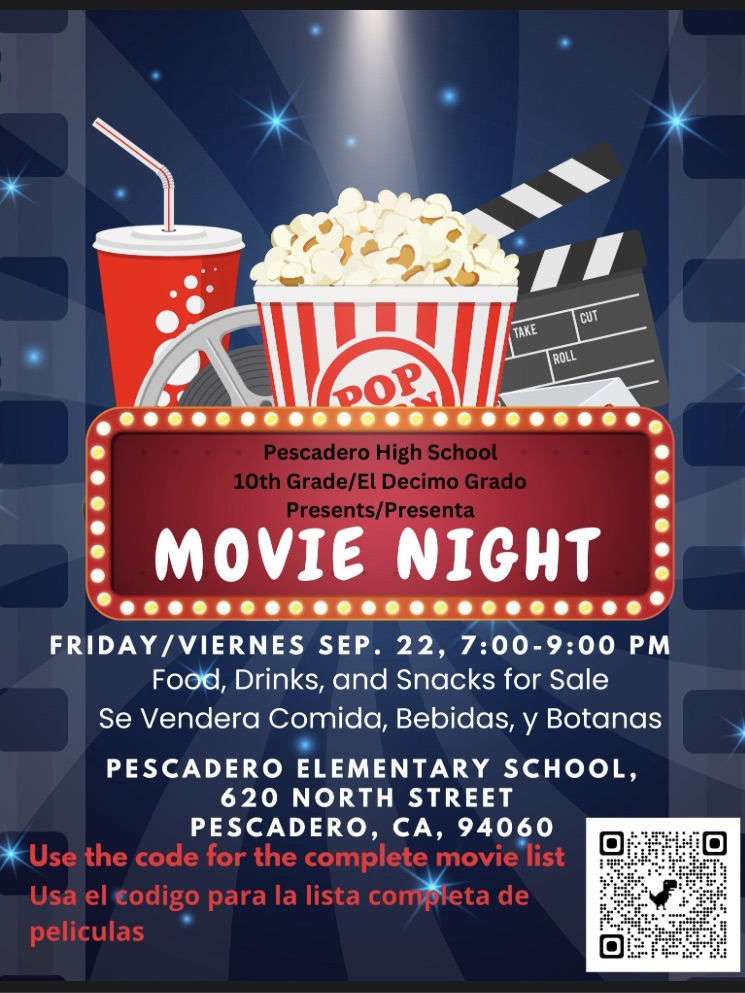 Please check out the attached flier!

Seniors! Senior Parents! (Juniors and Junior Parents are welcome too)! Attend these events to learn more about paying for college! Canada College Financial Aid Overview October 4 @ 5:30 pm Cash For College January 10 @ 5:30


Reminder: Thursday, September 7 (tonight) is the LHPUSD district-wide Cyber-Wise safety presentation at 6:30 PM in-person at PES or via Zoom. The code for the Zoom meeting is
https://tinyurl.com/muu7dhec

Reminder: There is NO SCHOOL (Preschool-12th) for all LHPUSD schools on Monday, September 4th in recognition of Labor Day.


Wednesday, August 30 @ 5:30 - 8:00 | PMHS Back to School Night BBQ and Family Picnic Potluck Why should you attend Back to School Night this Wednesday at PMHS @ 5:30? Good food. Good people, good music. We are a community and BTSN celebrates our community. Resource Fair with all sorts of free goodies and good information! Our PEF will represent, as will our Athletic Boosters and our Fine Arts Boosters. Help us host a Parent Night where you live or work! We are bringing school information and listening sessions to you! Make sure you are signed up for Talking Points, which allows you to text and receive texts from the school and teachers! But most of all, you are able to visit your student's classroom, sit in his or her's chair, meet the teacher, and get a sense of what a day in the life of your student is at school and that builds relationships and good communication throughout the school year!




LHPUSD School Board Meeting on Thursday, August 10th at La Honda Elementary. Open Session at 7:00 PM.

Reminder: Thursday, June 8th is early dismissal for all students at 12:30 PM.

LHPUSD schools will be closed on Monday, May 29th in observance of Memorial Day.


LHPUSD schools are experiencing a Comcast/Xfinity outage today - May 11th-and the internet is currently down at all three sites. Comcast/Xfinity has been contacted and are aware of the situation.

Reminder: School Board Meeting on Thursday, May 11th held at La Honda Elementary. Open session at 6:30 PM.

𝗛𝗮𝗽𝗽𝘆 𝗦𝗰𝗵𝗼𝗼𝗹 𝗣𝗿𝗶𝗻𝗰𝗶𝗽𝗮𝗹𝘀' 𝗗𝗮𝘆! We greatly value and respect all of our principals for the commitment, care and dedication they demonstrate every day for our students, families and staff. Thank you for all that you do!